Also by Jim Kershner
Mountain Goats are My Weakness, And Other Tales of the Northwest
(New Media Ventures, 2004)
» buy online


The Human Comedy, Plus Other Species at No Extra Charge
(New Media Ventures, 1997)
» (Sold Out)


Air Washington: Creating Careers in Aerospace
(Published by Air Washington, in association with HistoryLink.org, 2015)
» (Not available for sale)


The Port of Moses Lake, A History
(Port of Moses Lake, 2012)
» (Not available for sale)


The Northwest Power Pool
(HistoryLink and Documentary Media, 2017)
» (Not available for sale)


Force and Finesse: A History of Service Employees International Union Local 775
(HistoryLink and Documentary Media, 2018)
» (Not available for sale)
Links
Jim Kershner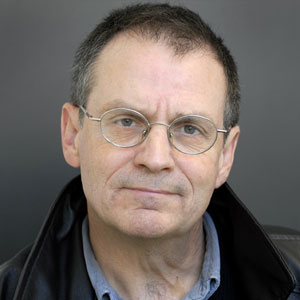 Author Jim Kershner
Jim Kershner is an author, historian and journalist in Spokane, Wash. He was born in Denver in 1953 and received a BA in History from Lewis & Clark College in Portland, Ore., in 1975.
He embarked on his journalism career at the Cody (Wyo.) Enterprise in 1975. He then worked at the Valley Daily News in Kent, Wash., for 11 years. He moved to The Spokesman-Review in Spokane, Wash., in 1989, where he has worked as a humor-opinion columnist, theater critic, arts editor, entertainment writer, restaurant reviewer, and history writer - sometimes all at the same time. He has won numerous national and regional journalism awards, including seven awards from the National Society of Newspaper Columnists. He retired in 2011 but he continues to write for the paper.
He is also a staff historian for HistoryLink.org, the Online Encyclopedia of Washington State History, for which he has written hundreds of historical essays and two books.
He has also had articles published in numerous magazines, including Columbia: The Magazine of Northwest History, The American Journalism Review and Symphony, the Magazine of the League of American Orchestras.
He is the author of two hardback collections of columns: Mountain Goats are My Weakness, And Other Tales of the Northwest, published by New Media Ventures, 2004, and The Human Comedy, Plus Other Species at No Extra Charge, published by New Media Ventures, 1997.
His 2008 book Carl Maxey: A Fighting Life, published by the University of Washington Press, was a finalist for the 2009 Washington Book Award. His 2017 book,The Northwest Power Pool, won a Silver Medal in the 2018 Independent Publisher Book Awards for Best Nonfiction, Western Region.
He lives in Spokane, Wash., with his wife, Carol. They have two grown children, Mike and Kate.